Speaker- Hugh O'Connor
Our second night back for 2019 and our second guest speaker.
We had an excellent presentation of his travel photography by CCG member Hugh O'Connor.
Hugh, is an all-round photographer and has previously exhibited several superb photos from many different genres and styles. At this event we were all delighted to be treated to a display of some photos from one of Hugh's specialty areas – his travels. Specifically images from Iceland, Norway and Scotland.
He showed many stunning images that were captured in some very challenging conditions. Those challenges included rough terrain, long distances, remote locations and inclement weather. The quality of his photography is testament to Hugh's ability. His possession of so many beautiful pictures is due to his determination to not let anything get in the way of his quest to bring home only the best shots on his memory card!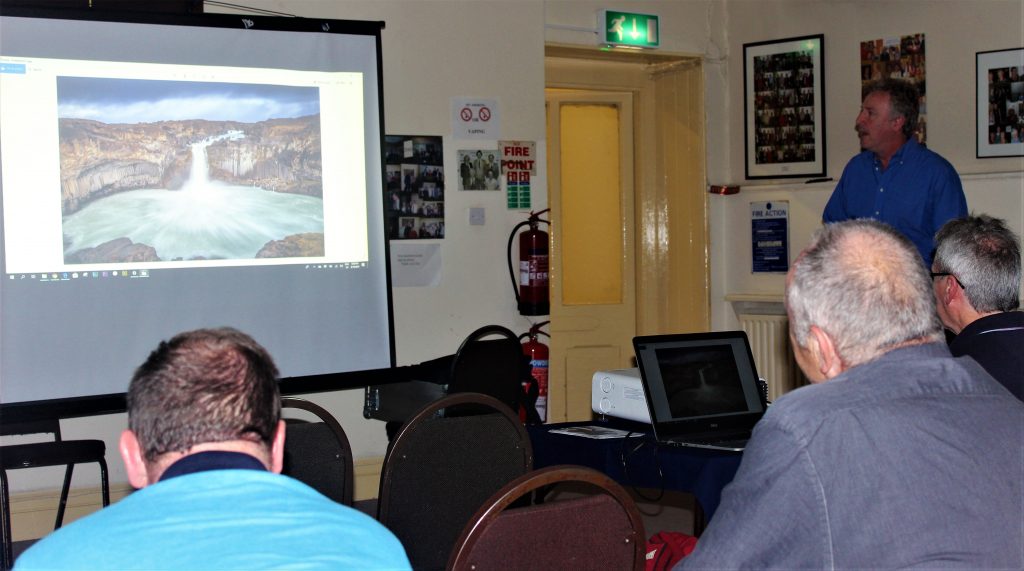 The main theme of Hug's presentation was Travel, but came with a firm sub-theme of Landscape. Hugh had used a variety of lenses and techniques and his work displayed several different treatments of the subject, ranging from wide vistas to some tighter telephoto shots. Some of his work involved using graduated filters for the sky and an ND filter to give the longer exposures needed for flowing water. Having said that, many shots mainly required very early starts to be in the right position for sun-up! You can use all the filters you want but Hugh's photos showed that having the best quality light and the appropriate direction of light makes the biggest difference to the final image.
You can get the light just right, but one popular image on the night showed that a bit of luck always helps! The angst of not having a proper indicator of scale in a landscape was relived in spectacular fashion by a serendipitous meeting with another intrepid traveler. We have all met people on our travels but I can't say I found anyone that willing to participate in my creative process.
Our capacity Cork Camera Group audience enjoyed an excellent presentation, some inspirational stories, and, of course, the glorious photographs.
Thanks Hugh!
Also, all credit to Catherine O'Keeffe for grabbing these few publicity shots on the night.